Launch of Forbes Wine in Canberra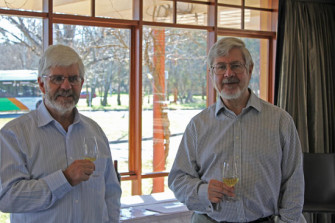 On a sparkling (but fresh) Canberra winter afternoon in July, Colin introduced the range of Forbes & Forbes wines to a select group of quaffers in the nation's capital.  The tasting was at the Boathouse on the Lake restaurant which provided an outstanding venue for the sunny afternoon, together with delightful food.
In the whites, he presented Rieslings with varying maturity from 2007 to 2012, together with the newly released ratafia-style fortified Riesling, The Reserve.  The reds included a premium new release blend of Cabernet Sauvignon, Merlot and Cabernet Franc which we are calling Alexander Murray (Forbes) after our father.
Murray was a great supporter of Colin's wines and helped in the vineyard – picking, pruning and maintaining our old vineyard in Springton.  This is the vineyard from which our grapes still come.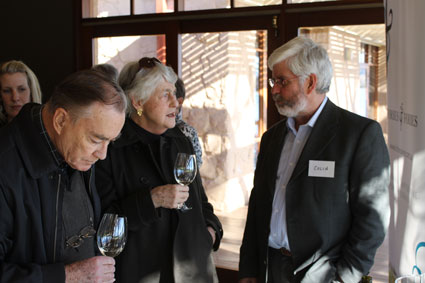 There was a very positive buzz! We certainly enjoyed the afternoon and from the conversations and feedback the tasters did as well.
One of the fascinations of doing large tastings is seeing which wines people prefer.  The spread of popularity was wide.  The favourite among the whites was the award-winning 2012 Riesling, people enjoying the fresh fruit characters and depth of flavour it shows for a young wine.  Mature Riesling fans were drawn to the complexity of the 2007.
From the reds the Alexander Murray attracted the most support with its Cabernet based blend.  
Our guests had a great time tasting the wines, and discussing them with Colin.
Rob Forbes
July 2013