James Halliday includes 3 Forbes Wines at 94+ in the 2015 Wine Companion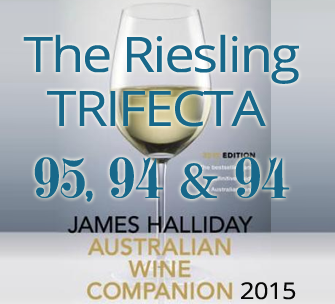 We were chuffed to learn recently that 3 of our superb Rieslings have been included in the James Halliday Australian Wine Companion 2015 Edition.
It's the Forbes & Forbes winning TRIFECTA for 2014/2015 in the Riesling Stakes!
Following are James Halliday's 5 Star comments and point score.

Cellar Matured Eden Valley Riesling 2008 – 95pts
Still a pale colour, and no less youthful on the palate; here lime, lemon and apple all interact with bracing acidity; this acidity is part of its tenacity, but will not prevent the ongoing development of flavour past 2020.
Rating 95 to 2023  |  Coming soon

---
Single Vineyard Eden Valley Riesling 2013 – 94 pts
The citrus blossom bouquet is attractive, but it is the palate that is electrifying, with its rapier thrust of lemon sherbet racing through it. A wine such as this is the supreme match Chinese food, especially seafood.
---
Cellar Matured Eden Valley Riesling 2007 – 94pts
Bright, full golden-green, a convincing example of the rewards patience provides; while bone dry, the wine has a juicy lime, honey and toast array of aromas and flavours, the palate with excellent length and balance.
Rating 94 to 2018  |  SOLD OUT