Forbes & Forbes launch in Adelaide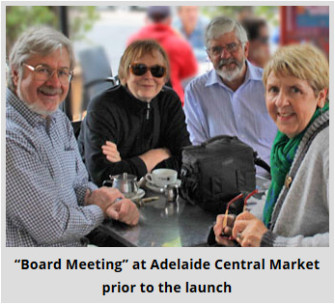 On 23rd November 2013, we had another successful introduction of Forbes & Forbes wines – this time at a gathering in Adelaide.
Some 50 people came to taste and, happily, purchase the full range of our wines at the Fullarton Park Centre.  It is lovely to see this delightful old Adelaide stone house being used as a community centre, with rooms and the large grounds, available for various functions.  It was great having the opportunity to use this facility to showcase our wines and we accompanied them with artisan breads and cheeses from the Barossa Valley Cheese Company.
Colin shared his passion for Rieslings by showing and discussing wines from 2007 (now sold out), 2010, 2012, and the new 2013.
He and Rob (visiting from Canberra) announced that the 2013 had won gold in the National Wine Show in Canberra, a result released just the day before.  The award winning 2013 received much interest, particularly because of its fruit flavours and fresh palate.
That wine was very much appreciated, as was the 2010 Alexander Murray, a blend of Cabernet Sauvignon, Merlot and Cabernet Franc named after Rob and Colin's father.  The rich, soft complex characters also generated positive comments from tasters.
Those in attendance included many friends, some of whom are representatives of South Australian wineries and wine salespeople. Their response to the wines was uniformly enthusiastic.  In true Adelaide tradition the event gave people the opportunity to catch up with old mates they had not seen for a while!
Cheers,
Di Picard
PS
You don't have to come to a tasting to buy Forbes & Forbes wines… just click here…